The VERBENA Workplace Health & Safety Management Programs provide a practical, no nonsense approach to managing you company's Safety Obligations.
The Systems are formally structured, auditable and specifically referenced and linked to the Legislation. This makes them relevant to literally any organisation regardless of size, type of industry or activity.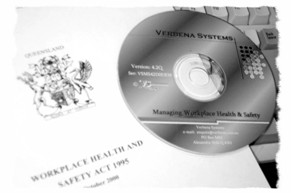 Their formal structure means that they can be used as a stand alone Safety Management System or easily merged into or annexed to any Quality Assurance System that you may have.
Explanatory and reference information, from the relevant sections of Legislation or Codes of Practice etc, is hyper-linked to each element of the systems so as to explain the reasons for the element and enable you to decide whether or not a particular element is relevant to your business & needs to be addressed.
Some of the Elements Addressed in the Systems:
| | |
| --- | --- |
| Access Restrictions | Managing Asbestos Materials in the Workplace |
| Assigning Responsibilities | Organisational Requirements for OH&S Training |
| Communication of Emergency Information | Purchasing New Plant, Materials or Substances |
| Consultation in the Workplace | Records of Worker Competencies & Training |
| Developing Policies & Procedures | Registrable Plant |
| Distribution of Safety and Legislative Information | Reporting Defective Equipment |
| Documented Safe-Work Procedures | Risk Assessment & Control |
| Emergency Procedures & Strategies | Safety Committees |
| Environmental Monitoring of the Workplace | Selection & Evaluation of Sub-Contractors |
| First-Aid Facilities | Selection, Provision & Use of PPE |
| Handling, Storage & Use of Hazardous Substances | Storage of Materials |
| Hazard Controls for Off-Site Work | Tenders |
| Health Surveillance | Testing of Electrical Equipment |
| Identifying & Reporting Hazards | Visitors |
| Induction Training | Waste Management |
| Injuries & Incidents | WH&S Signage Arrangements |
| Isolation Procedures | Work Permits |
| Issue Resolution | Workplace Facilities & Amenities |
| Licences Competencies & Training | Workplace Health & Safety Officers |
| Maintenance of Plant & Equipment | Workplace Inspections |
Some of the System Features & Inclusions
Fully explains all the issues & requirements

Addresses all aspects of Safety Management

Includes Company Procedures Manual (Except Small Business Version)

Includes Emergency Procedures Manual

Includes Policy Statements (i.e. Safety - Drugs - Sexual Harassment - Environment. etc)

Includes over 60 editable Form Templates covering the A to Z of Safety Management

Store copies of completed Forms internally (except Small Business Version)

Carry Out Risk Assessments & Reviews

Develop your Safe-Work Procedures (Simple or Detailed)

Store copies of completed documents internally

Assess & Manage Hazardous Substances

Maintain a digital Hazardous Substance Register

Store your MSDSs internally with menu access

Store Photos of Incidents & Events internally

Also includes a very comprehensive Reference Library

And More!
Any documented procedures, forms, templates etc that you may have already developed for your organisation need not be wasted as they may be saved directly into the system to replace an existing template.
What you will not find in the Verbena Systems!
Unrealistic claims

Unnecessary Hype

Unintelligible jargon

Expensive consultant driven presentations & seminars

Imaginary & meaningless awards & accreditations

(All designed to be of greater benefit to your Consultant's bottom line than to your's)
Just practical common sense solutions and guidance, &
If you do need assistance, we can help with that as well!
These systems make it easy for you to develop a comprehensive and auditable Safety Management System that suits your business, to effectively ensure compliance, demonstrate "Due Diligence" and minimise your exposure.
Support:
These packages have been designed for easy in-house development, requiring no special skills or knowledge.
However, if preferred Verbena Systems can provide a range of support services, from simple tuition in the use of the packages, up to and including complete development, installation and ongoing maintenance of your system and procedures.